Third Party Motor Premium Hiked- Again!
Submitted by

ciby

on Tue, 31/03/2015 - 11:33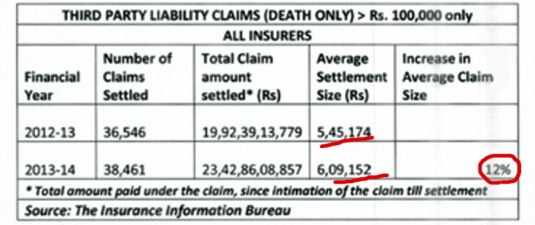 Last year also on the final days of March we wrote about how the third party premium for motor vehicles are going to be hiked due to the heavy losses that the insurers have been raking in the motor department. We also hinted that during the coming years, we would be seeing a repetition of the same.
IRDA had proposed an increase of 14-108 % in the third party premium on March 9th. And this had lead to nationwide protests from truckers. The general insurance companies have taken a milder stand on the percentage of increase. "The industry is of the opinion that the third party premium rates are not adequate, considering our claim experience. Hence in our view the premium hike must be in the range of 40-50 percent as it will help us to breakeven under the segment" New India Assurance Chairman and Managing Director G Srinivasan said.
While substantiating the reasons for increasing the TP premium, IRDAI has said that the average compensation paid as death claim is going up. For the year 2012-13, the average death claims paid were Rs.545,174 and for 2013-14 the number was Rs.609,152(Refer the table above). The Authority further said the death claim size on policies issued during 2014-15 and 2015-16 that would be settled over next 8-10 years is expected to be higher and hence an increase in the TP premium is inevitable.
The third-party cover for two-wheelers of 150 cc to 350 cc capacity would attract a premium of Rs. 554, and those exceeding 350 cc Rs. 884. Owners having third-party cover for private cars of 1,000 cc capacity would now have to pay premiums of Rs. 1,468; those exceeding 1,000 cc but below 1,500 cc will attract a premium of Rs. 1,598, and those above 1,500 cc Rs. 4,931(TP rates for NCR region)
The national transporters lobby, The All India Motor Transport Congress, AIMTC, has strongly opposed the hike and warned of a nationwide strike. "During its emergency meeting on 26th March we had decided that if IRDA does not listen to us then we have no option but to go on a nationwide strike" AIMTC President Bhim Wadhwa said it a statement.
For commercial vehicles especially trucks the TP hike would translate into a huge burden. But on the other hand, TP claims occur for these segments of commercial vehicles the most. It is very rarely that private motor vehicles have a third party claim. However, the TP premium paid by private car owners help in absorbing the claims that occur in the commercial segments.
The proposed TP hike would come into effect from April 1st 2015 onwards.