Wedding Insurance
Submitted by

ciby

on Fri, 13/11/2015 - 10:34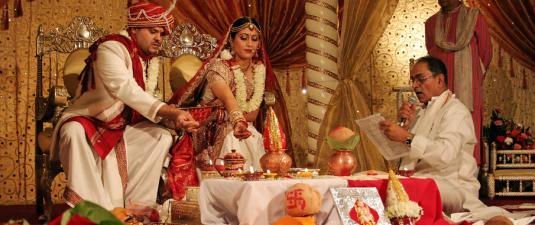 In this highly romantic revelry filled days, expectant of a forth coming wedding , no one will ever dare to think of something going wrong somewhere.  It is  a taboo even to think inauspicious  of a ceremony so sacred  like marriages.  But with the Indian fat wedding getting even bigger in glitz, frills,  pomp and colour  these occasions are also susceptible to eventualities like accidents or fire like any other mega events. With the rich   more and more going for destination and concept  weddings, the annual  Indian wedding  spend is expected to touch 2000 crore in the immediate future.  Even die -hard  religious and superstitious  people may not like to take  a chance to see their money ruined just in case something happens. To their help many of the Insurance Companies are offering Wedding Insurance.
The Covers:
The most common cover is for postponement or cancellation of a wedding in case the bride or grooms gets injured in an accident or if any of their blood relatives are hospitalized. The Policy covers for perils such as  fire, earthquake, flood,  riot and strike, etc..  Most policies also cover damage to property like the stage, the seats, or equipment which have been leased, rented. The policy covers Burglary and damage to the wardrobe also.  Money kept in the safe,  gold ornaments, precious tones, gifts from relatives, etc. can also be covered under burglary extension. There are provisions  for covering Public Liability and legal costs in case of any  incidence of food poisoning or other  damages that may occur  at the venue.
The Sum Insured:
Can be customized according to one's needs taking into consideration the location, number of programmes, the kind and grandeur of decorations, number of guest, etc. you have to keep accounts of all expenses, receipts, valuation certificates, etc.
The Period:
The policy must be taken at least three days in advance before the actual start of the wedding event and end with the end of the functions connected with the wedding.  Ideally, the policy should commence 10-15 days  in advance so that the  arrangements and preparations  for the functions can also be covered.